Yojiro is directing URINETOWN, produced by SEDOS at the Bridewell Theatre.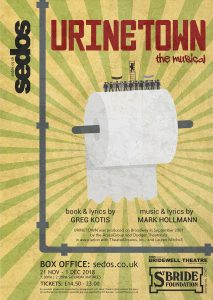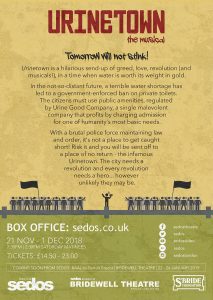 URINETOWN, THE MUSICAL
Music and Lyrics by MARK HOLLMANN
Book and Lyrics by GREG KOTIS
Bridewell Theatre
Bride Lane Fleet Street
London, EC4Y 8EQ
SCHEDULE
21 November-1 December 2018
Evenings at 7.30pm,
Saturday matinees at 2.30pm
CREATIVE TEAM
DIRECTOR | Yojiro Ichikawa
MUSICAL DIRECTOR | Ryan Macaulay
CHOREOGRAPHER | Kim Barker
PRODUCERS | Lizzie Drapper and Ryan Macaulay
ASSISTANT DIRECTOR | Helena Bumpus
STAGE MANAGER | Shiri Stern
LIGHTING DESIGNER | Olly Levett
SET REASLISATION | Andrew Laidlaw
PUBLICITY DESIGN | Robert J. Stanex
CAST
HOPE CLADWELL | Miranda Evans
BOBBY STRONG | Joe McWilliam
PENELOPE PENNYWISE | Tal Hewitt
OFFICER LOCKSTOCK | Luke Leahy
LITTLE SALLY | Ellie Jones
CALDWELL B. CLADWELL | Dan Saunders
LITTLE BECKY TWO SHOES | Kate Gledhill
OLD MAN STRONG | Stephen Hewitt
MR MCQUEEN | Chris Watson
JOSEPHINE STRONG | Annabel Watson
SOUPY SUE | Sarah Berryman
OFFICER BARREL | Stephen Kellett
SENATOR FIPP | Sam Barnes
HOT BLADES HARRY | Alex Yelland
MRS MILLENIUM | Paula Mount
TINY TOM | Jack Brown
DR BILLEAUX | Kish Soni
Other characters will be played by:
Tasila Banda, Amy Carmichael, Jessie Davidson, Adrian Hau, Josh Yeardley
REVIEWS
☆☆☆☆☆
My advice to you, get over the title, get a ticket, take a seat and sit back for the happiest couple of hours you are likely to have this side of the festive period. Urinetown: The Musical is back for a 'wee' while and should be enjoyed for the fantastic show it is.
☆☆☆☆☆
Director Yojiro Ichikawa has coached the cast in the art of coarse acting to great effect; it's so tongue-in-cheek that I couldn't help giggling throughout.—–Urinetown is just as innovative, creatively staging the musical in the traverse and utilising a simple, yet superbly effective moving set (beautifully constructed and designed by Andrew Laidlaw). I feel as though this review is slightly too glowing but honestly, it's a struggle to nd fault. For a show that charges under £20 per ticket, this is a superb night out with plenty of bang for your buck.
☆☆☆☆
If you hurry you'll be able to catch the last few performances of the musical Urinetown at the Bridewell theatre, and you should as it is very good. Even more impressive is that it wouldn't look out of place in the West End.—— Directed imaginatively by Yojiro Ichikawa and Movement Director Kimberly Barker, there's a balletic grace to the fast-moving proceedings along with the toilet humour. It's not quite like anything you've ever seen. Definitely worth spending a few pennies on a really good night out.
☆☆☆☆
SEDOS have created a fantastic production, very cleverly staged in the round and with minimal set which allows for a very fluid production that keeps incredible pace throughout. The direction by Yojiro Ichikawa was fantastic, getting the most out of his cast and theatre, using every possible entrance to make sure the audience is pulled into the show.
Yojiro gave us a well thought-through and thoroughly directed production with great attention to detail. He allowed the cast to expand to fill the long deep space at the Bridewell on multiple levels which helped to really make the action come alive. Set changes and transitions were slickly carried out and always relevant to, and supportive of, the narrative and driving of the plot. There had clearly been a lot of work done on the characterisations and how the effectiveness of their interactions could be maximised with some excellent work through the 4th wall which was really well done and delivered.
Simon Jones & Carly Hilts, National Operatic & Dramatic Association
GALLERY