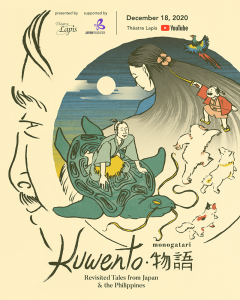 TRAILER
FULL PERFORMANCE
REVIEW
☆☆☆☆
"Through the stunning visuals and immersive stories, I am transported into a world of wonder and fantasy. ….These three adventures whisk you out of your living room and into fantasy worlds while telling moral tales about respecting others, looking after your fellow citizens and the importance of family – all beautiful morals that resonated in the past and the present."
INTRODUCTION
Théatre Lapis is proud to present 'Kuwento-物語 (read as Monogatari): Revisited Tales of Japan and the Philippines', an online performance created through the collaboration between artists in the UK, Japan, France and Manila.
The online release will be on the Theatre Lapis Youtube Channel on December 18th, 2020 featuring renowned Filipino actor and master storyteller Bodjie Pascua, international theatre artists Charley Magalit, Earle Figuracion, Natsumi Kuroda, Haruko Sekiya, Juna Shai, Kaya Yuzuki, Sok-ho Trinh, Paul Reynolds, and Melisa Camba. This project is supported by The Japan Foundation, Manila.
'Kuwento-物語: Revisited Tales of Japan and the Philippines', written by Nozomi Abe and directed by Yojiro Ichikawa, is a digital storytelling exploration of Japanese folktales told in English, providing the children and audience all over the world with the opportunity to experience the authentic Japanese culture, retold through the unique fusion of the creativity of Japanese and Filipino artists. Its aim is to raise and increase awareness of Japan, and its culture, and to invite the audience to the world of Japanese aesthetics.
It features three well known Japanese folktales; 'The Tale of Princess Kaguya', 'Momotaro', and 'The Fisher Boy Urashima'. These three tales of love, adventure, and wonder — cultural masterpieces and treasures of Japan — have been passed down from generation to generation, imparting wisdom, igniting imagination, and entertaining audiences of all ages.
This show is a unique, international, cross-collaboration among Japanese, British, French and Filipino artists from different corners of the globe. Overcoming challenges of the isolation induced by COVID-19 in the year 2020, this project seeks to create innovative ways of sharing stories even in a remote setup.
It is the first step of a five-year plan to revisit folktales and stories of Japan and the Philippines, introducing the aesthetics and cultures of both countries to the world.
CREATIVES
Director/Sound Editor: Yojiro Ichikawa
Writer/Dramaturg: Nozomi Abe
Original Artwork: Nina Martinez
Video Production: Malcolm Velazco
Music and Sound: Ryo Takeshita
Lyrics: Eden Tredwell
Additional Music: Jacob Sarreal
Project Head: Earle Figuracion
Finance Officer: Azuho Mikami
Promotion Manager: Natsumi Kuroda
Administrative Assistant: Misaki Asakura
Produced by: Théatre Lapis
In Collaboration with: MAV Film Productions
Supported by: The Japan Foundation, Manila
CAST
Bodjie Pascua
Earle Figuracion
Natsumi Kuroda
Charley Magalit
Paul Reynolds
Haruko Sekiya
Juna Shai
Sok-ho Trinh
Kaya Yuzuki
Melisa Camba
GALLERY